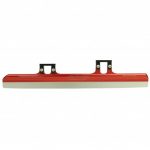 EHS ACS
€449,00
Successor to the Argon

Most firm model blade

Smooth grinded Kromkamp steel

Bi-metal or PM

Trusted hard aluminum alloy keeps the bent

Very precise prebent

Proven quality
Description
Additional information
Reviews (0)
Description
EHS ACS blade feature:
Tube
Aluminum tube made out of very hard quality aliminum often used in aircraft industries. The original alloy we used for Bont and EVO blades. This alloy is more expencive but keeps the bent better than other alloys.
The tube has a cnc machined slot in the bottom in the shape of the bent. This very precise machining job makes it possible to create a nice and smooth prebent blade.
Cups
The EHS cups are made out of one of the hardest available aluminum alloys often used in aircraft industries. This alloy is only available as solid material so the cups are machined out of solid material. This is a more expencive process, but then you have a very stiff low weight and long lasting piece of art. Tread will stay in shape for long use and the mounting on the blades will not wear out. Cups are made in standard hight 0, +2,+3,+4,+5,+6,+7,+8,+9,+10. And on request we can machine angled cups and nodized in special colors.
Steel
Making the steel runners is a very difficult process. Especially keep them flat. All skaters want to have the flattest runners, so we made it our goal to make the best runners. We only use the best PM and Bi-Metals, do the most advanced heat treatment and have the nicest surfacegrinding. No costs are saved to achieve the best results here. The runners are glued in the tube by our own invented proven system. Using very high quality glue invented for use in earospace industries. There never failed one runner coming out of the tube.
Options
The blades come in different lengths. Size 16.0-16.5-17.0-17.5-18.0 inch with 165mm mounting distance.
On special request we can make other sizes and 140mm mounting distance.
On request we can do special laserengraving on the blades. For more info for special requests please inform by mail.
Additional information
| | |
| --- | --- |
| Maat | |
| Cups | |
| Staalsoort | |
| Merk | |